28.05.2019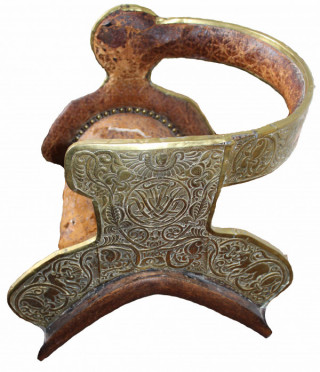 The 2019 summer opening hours of the Icelandic Horse History Centre will begin on Saturday, June 8th. The Centre will be open daily from 10:00 to 18:00 (10 AM to 6 PM), except for Mondays when it is closed. The summer opening hours will end on Saturday, August 31st.
This year, a new exhibition will be opened in the centre, entitled Splendid Saddlery. It is a reproduction of an exhibition of the same title held at the National Museum of Iceland last year, with the limitations caused by the exhibition facilities and storage of objects.
The exhibition focuses on the handicraft and artistry of the craftsmen who made the equipment for the riding horses of well-to-do people. Fascinating graphics decorating saddles, buckles, girths,and caparisons reflect on the craftmanship and knowledge of those who created this exuberant heritage. The saddlery of former times also sheds light on the development of riding gear and what it represented, as well as on the horse which was fitted out with these treasures.
The caparisons, which were used to protect the saddles and the horsewomen themselves from dirt, are worth mentioning in this connection, as they are not only stunningly beautiful, but also an Icelandic speciality. It is also a matter of interest that the only installed clay-weighted loom in the North of Iceland, which was indeed the kind of loom used to weave the caparisons, is in the new Auđunarstofa Hall at Hólar.
The Splendid Saddlery is an intriguing exhibition which appeals to Icelanders and visitors alike.